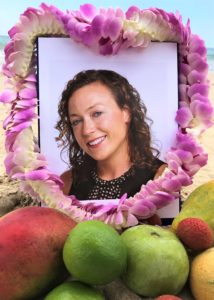 I invite you to take a deep breath. There is a reason you are here.
October, 2017 marked the two year anniversary of the passing of the beloved Dr. Jamie Lauren Zimmerman. Jamie was a truly exceptional woman of many proud heritages who traveled the world leaving a trail of wisdom, beauty, passion, and hope in her wake. Her example of perseverance through adversity, self-realization, and deep agape built us a lighted path on which to emerge from the communal heartbreak of these unprecedented times.
It is one of the great honors of my life to have inherited Jamie's website and I hope that you, whether Jamie's family member, friend, collaborator, colleague, patient, or curious global relative, will find resources on this site to turn our collective stress to calm, fear to courage, and grief to enlightened action.
Jamie and I met in Hollywood at the International Documentary Association many years ago and I was immediately taken by her glow. When she came to see me just before her passing, we stood eye to eye marveling at the force field of love between us. It was clear that we are sisters of the soul, mirroring one another in countless ineffable ways.
"Alchemize" was a favorite word of Jamie's and she excelled in turning her own pain to gold. When my grief at Jamie's loss redoubled after finding that her website had been deleted, I worked with Jamie's dear aunt Mrs. Jean Strunsky to rescue the remaining files.
I am happy to announce the relaunch of jamiezmd.com under the umbrella of The Jamie Zimmerman Legacy Project, a moniker for all of my efforts to keep Jamie's work pulsing forward that came to me in meditation.
The JZLP has helped to alchemize my own grief at Jamie's passing by inviting me to step up onto new plateaus of learning, eschew perfectionism, expand my circle, deepen my relationship to mindfulness, and to go boldly in the direction of my soul's purpose.
My vision is for jamiezmd.com to become a living celebration of Jamie's most cherished dreams for the world. The Jamie Zimmerman Legacy Project seeks to uplift and advance the world-saving core principles of Dr. Jamie Zimmerman, encouraging you to make your passion your paycheck, integrate socially, stand up for equality, realize holistic wellness, and more.
With the help of my darling husband, I have begun by consolidating many of Jamie's guided meditations, articles, and bios so that you may connect to her genius with ease.
You will also find here a treasure trove of interviews Jamie filmed with her meditation godfather and collaborator Dr. Deepak Chopra to whom I send thanks for graciously extending his guiding hand to me when we met on his Radical Beauty book tour.
Unending gratitude goes out to Jean for her determined support, and to Jamie's loving circle with a deep bow to Harkiran Gill, Angie Pack and Kalyanee Mam for their divine comfort, encouragement and aid.
It is my prayer that you will find inspiration and healing here and that you will reach out with your gifts and ideas for next steps to help us expand and support one another.
There is no limit to the miracles we can accomplish when we join forces in Jamie's honor!
Please join the JZLP email list to stay up to date as we grow, and do let me know if you have photos, videos, articles or correspondence to add to the archive.
I welcome the submission of tributes, stories and your creative work as well.
Peace and power to you.
With love,
Aretha
*UPDATE: I am in awe of the positivity and gratitude flowing in from your responses. Blessings to you all.
Into a daybreak that's wondrously clear 
She rose 
Bringing the gifts that her ancestors gave, 
She is the dream and the hope of the slave. 
She rose
She rose
She rose
-Adapted from "Still I Rise" by Maya Angelou